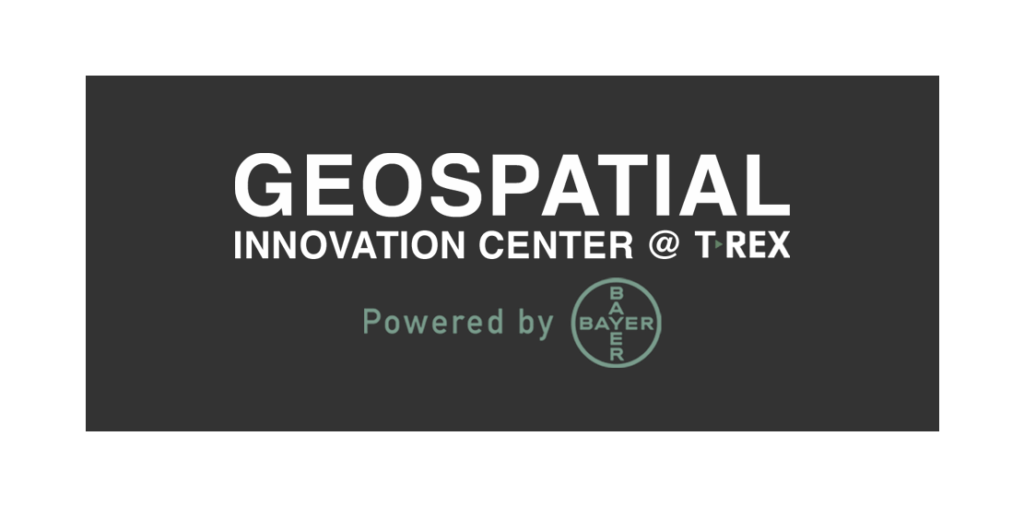 STL's Geospatial Revolution Begins at
T-REX.
Let's be clear. The geospatial world is undoubtedly gravitating towards St. Louis, MO. This isn't by chance. Our region is home to world-renowned research universities, Fortune 500 companies, dozens of existing geospatial organizations, and of course, a nearly $2 billion western headquarters in the works for the National Geospatial-Intelligence Agency; the largest federal investment in the history of our region.
This is a transformational opportunity for our city, poised to become the global center of excellence in geospatial technologies. That is why T-REX has built a first-of-its-kind Geospatial Innovation Center, clustering this rapidly growing industry where its impact is needed the most; in the heart of a resurging Downtown St. Louis and adjacent to the city's North side neighborhoods. T-REX is also a founding partner of the Downtown North Insight District.
Less than 2 miles from the Next NGA West Campus, T-REX is uniquely positioned to foster and support the expanding St. Louis geospatial ecosystem.
The Geospatial Innovation Center at T-REX, Powered by Bayer, is 16,000 sq. ft. of innovative and creative workspace dedicated to connecting and growing our geospatial community. Startups, researchers, government partners, and supportive sector leaders can collaborate and share resources amid an atmosphere of active learning classrooms, cutting-edge interactive and remote technology, and spacious world-class office space.
NGA's MOONSHOT LABS @ T-REX
In addition to T-REX's new Geospatial Innovation Center, the
National Geospatial-Intelligence Agency
has opened a new geospatial technology lab of its own within T-REX. Moonshot Labs, in collaboration with T-REX, is advancing efforts between NGA, industry and academia in the region. Moonshot Labs is NGA's first ever unclassified innovation space where NGA professionals can work directly with colleagues in the community to solve our Nation's hard problems. Moonshot Labs officially launched July 23rd, 2021.
Arch Grants
provides up to $100,000 in equity-free grants and pro bono support services to entrepreneurs who locate their early-stage businesses in St. Louis. Each year, Arch Grants specifically awards several grants to geospatial startups to help build a pipeline of talent and technology for the quickly expanding geospatial cluster in St. Louis.
All recipients are awarded free coworking membership to the Geospatial Innovation Center at T-REX for the duration of their grant!
MEET THE 2021 GEOSPATIAL ARCH GRANTS COHORT:
Sponsors & Programming Partners
Patricia Hagen, PhD
President & Executive Director, T-REX
Joshua White
Geospatial Program Director, T-REX
Geospatial Innovation Center Advisory Committee
Justin Bennett
Senior VicePresident, Strategic Programs
Freedom Consulting Group, LLC
Mark Donavon
Director, Front-End Innovation
Purina
Julie Murphy Finn
Director, Economic Development & Gov't Affairs
Kit Bond Strategies
Stephen Gillotte
Chief Executive Officer
Reinventing Geospatial Inc.
Bryan Raymer
Executive Account manager to NGA
Esri
Thomas Lash
Manager, Federal Programs
Amazon Web Services
Brian Monheiser
Co-Founder
GEO261
Ingrid R. Peterson
Director, National Security Segment
Guidehouse
Nick Powers
Vice President of Growth
UNCOMN
Greg Reynolds
Director
Enterprise Holdings
Tom Seiler
Executive VP, Geospatial & Medical Divisions
Seiler Instrument
Timothy Siems
Associate Partner
OGSystems
Andrew Sweet
Vice President, Product Engineering & Innovation
Daugherty Business Solutions
Christopher Tucker, PhD
Chairman
American Geographical Society
Steven Ward, PhD
Sr. Director, Geospatial & Weather Sciences
The Climate Corporation
Craig White
Principal, Government & Public Services
Deloitte.
Craig White
Principal, Government & Public Services
Deloitte.